Buying and Selling
Accelerate your Game Play!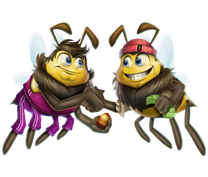 Buying and Selling
You will be given a starter pack of Gen Z Bees and a Gen Z Queen when you first download the Game. As you progress through the in-game tutorial you will receive additional Gen Z Bees. You can send those Bees on Missions to grow your Hive and build up your Inventory. Another way to expand your game play is to purchase assets from other players.
You can buy Bees, Queens, Lands, Honey (HXD), upgrades, Passes and other game-play items on the secondary marketplaces.
Additionally, if you have a Beemium account, you can sell your assets to other players if you choose! (Player-to-Player Marketplace Coming Soon)
In-Game Shop
Visit the Shop to purchase game-play assets using Honey held in your game wallet.
The Shop includes:
Beemium upgrade.
HXD Packs - Purchase Honey (HXD) using your Google Pay or Apple Pay account (open to limited countries at this time - more countries coming soon)
Zzubs - Purchase Zzubs using Honey. Zzubs are used to play Game Mall games and to spin the Lucky Wheel inside the main Honeyland game.
VIP Shop - Purchase limited-quantity shards using Honey
Gen Z Shop - Purchase Gen Z game-play shards using Honey
Daily Shop - Purchase game-play shards using Honey
Frames - Decorate your avatar by buying Frames, keep and eye out for limited edition Frames
REMINDER: Redeem shards to create game-play items. The more shards you redeem, the rarer the item will be.
Secondary Market
Honeyland game assets are tradable on the secondary market. These include Queens, Bees, Eggs, Passes, Lands, as well as cosmetic and upgrade items. Visit Magic Eden to see what's available!
REMINDER: If you have a Beemium account, you can use the secondary market to sell items you have earned in-game!
Special note about shopping for Queens and Bees: If you purchase an asset from the secondary market, you will need to stake them in the game before they can be used in the game. Depending on what asset you have purchased, and what you want to do with them, there can be a downtime before they are available for use in the game. For example: Queens have a minimum 24-hour downtime* before they can be used in game. *Beemium players experience a 24-hour downtime. FTP players will experience a 72-hour downtime.
Look out! - If you are planning to Breed the Bee you purchase, be sure to check how many times the Bee has already been Bred. All Queens except Genesis Queens and Gen Z Queens have breeding limits and the cost to Breed male Bees goes up with each Breed.

Honeyland Token - $HXD
Want to quickly add Honey to your game wallet? You can buy Honeyland Tokens (HXD) via Raydium and convert them to Honey by visting the bank inside game.