Your Swarm
Understanding the bees in your Hive!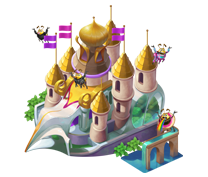 Your Swarm
There are two main types of Bees in the Honeyverse: Queen Bees and Male Bees. Queen Bees lead your Hive by making your missions more effective and efficient. Male Bees go out on missions to bring back Honey and Honeypots (filled with shards) which allow you to progress in the game and participate in the Honeyverse.
There are five different kinds of Queens and Bees: Genesis, Gen1, Gen2, Gen3, and GenZ.
Function
Queen Bee
Male Bee
Hunts
-
Yes
Harvests
-
Yes
Quests (only GenZ Bees)
-
Yes
Player vs. Player (PvP)
Boosts Male Bee's PvP Stats
Yes
Mission Boosts
Match Moods for
Hunt, Harvest, Raid,
and Defend Boosts
-Match Likes/Dislikes
-Match Landform Type
-Match Moods
Breeding
Yes
Yes
You can see lots of information about your Bee at a glance!
Badge
Bee Badge Type
Color Landform
Genesis

Fancy
Red

Desert
Genesis

Fancy
Green

Woodland
Gen 1

6 Points
Purple

Meadow
Gen 2

4 Points
Yellow

Seaside
Gen 3

2 Points
Blue

Summit
Gen Z

Smooth
Grey

None
10% of Gen1, Gen2, and Gen3 Bees DON'T have a Landform Specialty.
11% of GenZ Bees DO have a Landform Specialty.
Matching matters! - Queens and Bees are assigned Moods, Likes/Dislikes, and Landform specialties. When you send groups of Bees with matching traits on missions, you will receive significant mission boosts. Keep an eye on those traits to maximize your rewards!

Ready to grow your Swarm? A large Swarm gives you lots of mission options and more chances to secure mission boosts. Your Swarm grows by Breeding new Bees, buying Bees from the secondary market, and redeeming Bee shards.