Honey and Bucks
Meet the currencies of Honeyland!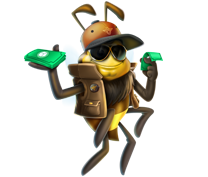 Honey and Bucks
The Honeyverse runs on Honey! Honey is primarily earned through Harvesting. Some in-game uses of the Honey include paying for Breeding and paying Landowners the entry fee for Hunting and/or the commission charge when you Harvest on their Lands.
Additionally, you will earn Design Bucks as you play Honeyland. Design Bucks can be spent on Hive decorations and cosmetic upgrades for your Bees.
REMINDER: You can add to your Honey reserves by purchasing Honeyland Tokens (HXD) on the secondary market and converting them to Honey in the game. There will be a total (fixed) supply of 1,000,000,000 (1 Billion) Honeyland Tokens.
Design Bucks are included in the Honeypots you receive from Hunting, given out as level up (XP) bonuses, and are available for purchase in the game marketplace.
EXAMPLE: You will be able to use Design Bucks to purchase new traits for your Bee's Head, Eyes, Mouth, Hand Accessory and/or Background that can be fused onto any of your Bees to permanently change their appearance. You can also customize your Hive by purchasing a new throne for your Queen and other decorative features.
REMINDER: Players with a Beemium account will be able to use the secondary market to sell design items they have created through redeeming Design Bucks. (Coming Soon)
Other players will be able to view your Hive by clicking the links displayed in the game leaderboard. Be sure to show off your Swarm's home by sprucing up your Hive!