Buying and Selling
Read our guide to master Honeyland!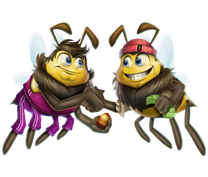 Buying and Selling
You will be given a starter pack of nine GenZ Bees and one GenZ Queen when you download the Honeyland Game. You can send those Bees on missions to grow your Hive and build up your Inventory. Another way to expand your game play is to purchase assets from other players.
You can buy Bees, Queens, Lands, Honeyland Tokens (HXD), Upgrades, Passes and other game-play items on the secondary marketplaces.
Additionally, if you have a Beemium account, you can sell your assets to other players if you choose!
In-Game Marketplace
Shop the in-game marketplace to purchase game-play assets using Honey held in your game wallet. You can also purchase Design Bucks!
There are two different ways to shop, Normal Packs and Daily Packs.
Each shard Pack includes five shards of a specific type.
Purchases of Normal Packs are unlimited. Shop as much as you like!
Daily Packs are limited to one purchase of each type of Pack per day.
REMINDER: Redeem shards to create game-play items. The more shards you redeem, the rarer the item will be.
Secondary Market
Honeyland game assets are tradable on the secondary market. These include Queens, Bees, Eggs, Passes, Lands, as well as cosmetic and upgrade items. Visit Magic Eden to see what's available!
REMINDER: If you have a Beemium account, you can use the secondary market to sell items you have earned in-game!
Special note about shopping for Queens and Bees
Pick a specific Queen or Bee that will best jive with your Hive! Shop the secondary market to see the Queens that are ready to lead a new colony and the Bees that are ready to go out on missions.
REMINDER: If you purchase a Queen or a Bee from the secondary market, you will need to stake them in the game before they can be an active member of your Hive. Bees and Queens have a 24 hour warmup period; they can't be staked or used in the game for 24 hours after purchase.
Look out! - If you are planning to Breed the Bee you purchase, be sure to check how many times the Bee has already been Bred. All Queens except Genesis Queens have breeding limits and the cost to Breed male Bees goes up with each Breed.

Honeyland Token (HXD)
Want to quickly add Honey to your game wallet? You can buy Honeyland Tokens (HXD) via Raydium and convert them to Honey by visting the bank inside game.